Disney Blog Carnival: Rides
Remember to hop over to JG's blog Me and My SoldierMan to read/see more Disney Carnival Bloggers and link-up your own page!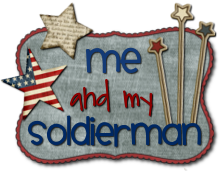 Today's topic is rides and although some of the attractions in the video below aren't technically rides, they're all some of our most favorites from our last visit. However, I should qualify that there are many more we love but don't provide an opportunity to video or photograph.
********
Some of my favorite memories of rides/attractions from our last trip...
*
*Seeing how excited the boy got in Mickey's PhilharMagic...he was only 14 month but we got him to wear the 3D glasses and since Donald was his absolute favorite thing in the world (he's since moved on to Daisy), he kept reaching for him and yelling. He was in heaven!
*
*Big Thunder Railroad is, always has been, and probably always will be my FAVORITE ride. It's been my favorite since I was 7 and big enough to ride it (miraculously considering that in kindergarten I wore 2T clothes) but this year it went to a new level. My Aunt took the boy so Joshua and I could have some time in the parks to ourselves one evening and we just happened to be on Big Thunder Railroad as Wishes (the fireworks show in Magic Kingdom began). We had seen it properly, sitting in front of the Castle earlier in the trip. But cuddling with my husband on my favorite ride, at my favorite place with an amazing fireworks show, there's no other word for it, it was perfection.
*
*The boy in the Teacups...in a word, hilarious.
*
*I was selected to be an extra in the Indiana Jones Stunt Show...awesome (the only downside was that I was in it so I couldn't take pictures and Joshua's not very skilled with a camera).
*
*On our last night in the parks, we decided to take the boy on Dumbo and again, while on the ride, Wishes began. The picture below the video is the one that sums up our trip that year in a nut shell. It was just after we got off Dumbo and were watching Wishes from behind the Castle (not a ride pic, but my favorite).
For the record, Joshua's favorite ride is Splash Mountain but it's not a very easy ride to photograph. I think next time, I'm going to do what I did for Expedition Everest and try to get a daytime picture of him coming down the drop (btw the pics in the video of Everest, Joshua's 4th from the front on the right...not that it really matters but it's fun to know).
I've said it before and I'll say it again, I could go to Disney World, not ride anything and still have a great time. There's just something magical about being there, you really are in a whole other world.
Tomorrow's topic: Food....makes me hungry just thinking about it, yummmm!